I have no idea which type of aileron had the best performance. I guess the last one, but I am not sure. If you know or you can explain why, tell me, please.

Most of you will know the "Flying Pancake" of Charles H. Zimmerman, He did some windtunnel tests and with the result he did design the Vought V-173. It was a low aspect ratio with at each wingtip a propeller of large diameter. Zimmerman thought that the props could guarantee a good airflow over the wing. The V-173 was tested ... a lot. Besides Mr. Guyton and Richard Burroughs, several pilots did test it. Even Charles Lindbergh wanted to fly it. It did survive several forces landings, it even did a nose-over (no injury to the pilot and no serious damage to the plane). It did gather 131 hours. This may seem impressive, but I guess that the Arups flew even more.

Zimmerman did catch the attention of the Navy with this V-173. It was a safe airplane due to its slow landing speed. It would land easily on a carrier. The Navy ordered the construction of a larger version. The Chance-Vought XF-5U1 was a fighter with two radial air-cooled engines of 1 350 hp at 2700 rpm. Both did drive a large prop. If one had a problem the other engine would take its task over. So that was safe too. But it was not to be. The XF-5U1 never did fly. The age of the jets began and a fighter with props did look obsolete. It was scrapped, destroyed.

Looks like a bad end for a good idea, doesn't it. Snyder did even worse with his Arups. The Arup S-2 was abused in a air show. The S-4 was scrapped for the war-effort. And the S-3 felt victim to... arson (= being put on fire!!). Talking about a sad end.

Now comes a part where I have to trust on dates. There is some discussion about the true inventor of the "flying pancakes". Most think it is Zimmerman. I think (as well as several other Nurflugel- mailinglist members) that Dr. Snyder gets the credit for the flying pancakes. Just go see the next dates (source Serge Krauss).
Snyder Patent: filed 9/8/30 (granted 4/26/32)
R.B. Johnson Patent: filed 8/12/31 (granted 11/8/32)
C.H. Zimmerman, NACA TR No. 431 (Clark-Y at low-A/R): 5/5/32.
Snyder "Dirigiplane" ('Snyder Glider'): flew early 1932 (public: 6/12/32).
Snyder "Arup S-1" (w/Hoffman: motorized glider): flew 1932?
Snyder/Hoffman "Arup S-2": flew 4/33 or 5/28/33.
R. Hoffman Patents (2): filed 9/18/33 (granted 11/20/34).
R. Hoffman "Hoffman Flying Wing": flew ?/34.
Snyder/Graighen "Arup S-3"(T-tailed, victem of arson): flew 7/15/34.
R.B. Johnson "Uniplane": flew 8/34
C.H. Zimmerman 7-ft. man-carrying model: DNF ?/35.
Snyder/Hoffman "Arup S-4" (T-tailed, 'No. 104'): flew 3/19/35.
C.H. Zimmerman Patent: filed 4/30/35 (concept; granted 2/15/38).
Snyder Patent: filed 5/27/35 (granted 11/24/36)
C.H. Zimmerman, NACA TN No. 539 (low-A/R): 7/15/35.
C.H. Zimmerman electric-model V-162 flt. tests: ca. 1937-.
C.H. Zimmerman Patent: filed 12/18/40 (V-173 / XF5U-1 - type; granted 11/18/47).
C.H. Zimmerman/Lightfoot, et.al. (United Acft.) Patents: many starting w/10/16/41 (gr. 7/9/46)
C.H. Zimmerman V-173: flew 11/23/42 (contract 5/4/40).
Zimmerman/Vought XF5U-1: mock-up 6/7/43, Navy contract 7/15/44, roll-out 8/20/45, taxi tests ?/47.

I got another remark from Serge Krauss: "I think that Zimmerman got his inspiration from viewing Snyder's and/or Johnson's patents. The NACA research on Clark Y airfoils of low aspect ratio may have been done because (as I understand it) the NACA reviewed aviation patent applications in those days."
There were also other low aspect ratios than those of Lee Richard, C.L. Snyder and Charles Zimmerman. For instance: deltas and biplanes are low aspect ratios. Example: the small Dyke Delta JD-2 has a aspect ratio of 2,7. But because they are regarded as normal, they are not weird enough to be placed in my site.
Quick overview of the other low aspect ratio's I know:
N. Masters gave me this on Hoffman: "Hoffman left Arup in 1933 and went to Florida, in 1934 he built a machine similar to an Arup but more refined. Unfortunaly the Hoffman plane caught fire from a broken fuel line and development stopped there." Serge Krauss stated that the airfoil was a Munk-designed, reflexed NACA M-6 of about 12% thickness.
R.B. Johnson did built a low aspect ratio as well. His "Uniplane" did fly in august 1934. It made several crashes. Serge Krauss told that this would not be due to the aerodynamic design, but due to engine problems. The survival of the pilot in those crashes tells something about the safety of the airplane.
The Frenchman Payen did build a low aspect ratio as well before WW II.
Arthur Sack made in Germany, with encouragement of Ernst Udet, a manned aircraft based on his scaled models. It was a circular wing. The manned aircraft, Sack AS. 6, made a few taxi-tests and they noticed problems due to the place of the control areas. They were placed in the vacuum of the wing. The small span in combination with the torque of the engine caused also a problem. The plane never flew. The plane was straffed by the Allied in a air raid. After this attack the plane was scrapped.
There is a site that gives the complete story of the Sack AS.6 . Go see www.luft46.com sector prototypes.
Hmm, the Arup S-4 has a similar tail configuration as this Sack AS.6. But the horizontal tail is placed a bit higher on the Arup. Seems that the Arup didn't had the same tail problem as the AS.6. Did the higher placement of the tail solve the problem? I wonder. Maybe it was something different I didn't see.

Can anybody help me on this one?
William Horton (not to be confused with the German Horten brothers) made a "wingless plane". I can describe the plane as a straight wing with a very long chord. The wing was the fuselage or ... the fuselage was a wing. That was probably why he called it wingless, because it was all fuselage. At the end of the wing were endplates in airfoil style. The endplates had a vertical tail on their end. Behind these vertical fins were some control areas placed which did extend beside the wing. Viewed from above the plane did look a bit like a square. I would like to say more, but there is allready a excellent site about this airplane. Go see home.att.net/~dannysoar/Horton.htm. The story also tells about the dark side of Howard Hughes. It did dissapoint me to hear this about him.
I did find this Russian low aspect ratio. It is called Diskoplane. Somehow I think that it is not the same one as mentioned in the book "Ailes Volantes" by Alain Pelletier. The fuselage here is a pod under the wing. The one in "Ailes Volantes" had a fuselage nearly completely inside the wing. Well, I do think it is, but the picture is too blurred to be sure.I don't know if this one is a forerunner. No data available on this one. But it looks like it uses elevons.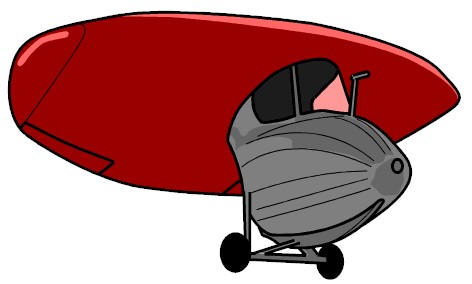 The Russian Diskoplane.
Ralph V. Sawyer from California holds a US patent on his Skyjacker. You can describe the plane as a fuselage with on both sides a short wing with long chord. The wings extend behind the fuselage. A horizontal tail is placed between the wings like they do with twin-booms. At the trailing edge of each wing is placed a aileron. They line with the elevator. Endplates are placed at the wingtips. A drag rudder is placed near the leading edge of each endplate. The pusher prop is placed between the fuselage and the horizontal tail.
Dimensions (source: Jane's all the world's aircraft 1978-1979 edited by John WR Taylor)
wingspan
5,49 m
(18 ft)
wing chord (constant)
5,33 m
(17 ft 6 in)
length
5,33 m
(17 ft 6 in)
height
1,88 m
(6 ft 2 in)
N. Masters did send me this info on the mailinglist of the Nurflugel-site:" Milt Hatfield flew the Arup S-2 and S-4 when he was in his 20s. In the late 1980s he built three planes derived from the Arups." Apparently the name for these planes was "Little Bird". Serge Krauss stated that the airfoil were 23012 derivatives.
At the website of TWITT (The Wing Is The Thing, a organization interested in flying wings) I found info about a Australian project called the Facet Opal. It was build and flown by Scott Winton. It was powered by a 40 hp engine. Scott broke 4 records with it, including climbing to over 30 000 ft with only his 40 hp. But Scott got killed in a accident with his Facet Opal. I have no data on the reason of this accident. If anyone can tell more, please contact me.
The following information on the Facetmobile is for interest and education only and not to be used for other purposes (on request of Barnaby Wainfan).
But I guess that the most recent low aspect ratio is the Facetmobile by Barnaby Wainfan. It looks like a combination of a F 117 and a low aspect ratio. The engine is in the front. The very large cockpit is also the wing. Endplates are placed at the wingtips. From what I did read, the project looks promising. It had a accident, but that was due a bad carburetor. Meanwhile the Facetmobile is in repair and will receive a new engine. Go see users.aol.com/slicklynne/facet.htm to find the official Facetmobile site.