Many visitors of my site mailed me that they don't master English and that they have a hard time to understand the theory due to words they don't understand. Most of these words are technical words about airplane parts. Here I will try to solve that problem by showing where those parts are located.

If you have problems with a word that still isn't in this list, tell me. I will try to find the meaning of it and add it to the list.

First I will show you some drawings of airplanes and name their parts. I have to show you three airplanes because of the different placing of elevators.
---
conventional airplane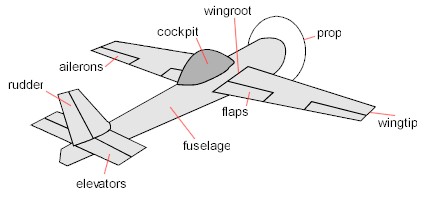 ---
Unswepted flying wing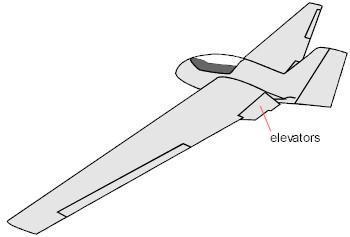 The Marske Pioneer.
Note here that the elevators
are on the place
where the flaps were in the
conventional airplane.
---
Swepted flying wing

The Utopia of BrightStar.

Here we have a combined control surface.
Elevons are elevators and ailerons in one.
Winglets or endplates are vertical surfaces at the wingtip.
Some are fixed, some have moving parts.
(The Utopia uses its winglets as control surface)
---
A
· Aileron = control surface which control the airplane around its roll-axis
· Airfoil = the shape of the wing when you would cut it. A wing can have several airfoils.
B
C
· Chord = length of airfoil at a certain point. Imagine cutting the wing and measuring the length of your cut.
D
E
· Elevator = control surface which controls the airplane in pitch
· Elevon= combined control area. Elevator and aileron in one.
F
· Fairing = a hangglider term which means an (partially or fully) enclosed cockpit. It decreases the drag.
· Flap = control area on wings that gives extra lift when lowered
· Fuselage = the part of a airplane which connects the wing to its tail (in conventional airplane)
G
· Gear = landing gear (wheels to land on)
H
· Hangar = place where airplanes are stocked in between flights
I
J
K
L
· Leading edge = edge of wing at the front
M
N
O
P
· Pitch= movement of plane. Nose moves up or down.
Q
R
· Roll= movement of plane. Wingtip moves up or down.
· Rudder = the vertical part of the tail on classic airplanes; on unusual designs the rudder can be placed at the wingtips.
S
T
· Trailing edge = edge of wing at rear
U
V
W
X
Y
· Yaw= movement of plane. Nose moves left or right.
Z